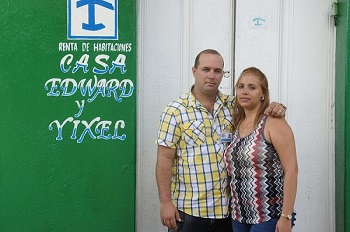 La Catedral is a large and beautiful colonial house, very bright and fresh, which preserves the style of the era it was built in.

Its location is ideal, just 50 meters from the Cathedral, the central park, Casa de la Trova, the Cubatur travel agency, all in the cultural center of the city, only 200 meters from the sea.

Edward and Yixel are the owners, a young and very attentive and friendly couple, they have the most central of rental casas in town. Both speak English.


They rent two independent bedrooms, very spacious and modern, with privacy, air conditioning, private bathroom and two beds, one on ground floor, the newer one upstairs with its own balcony (4 pics below, grey floor). Both share access to the rooftop terrace. The casa is very quiet despite its location in the town center.
The bedroom has two beds, a double and a single offering a capacity for three guests. The quality of service is very good
The couple is professionally-minded as they have experience renting elsewhere in town. Edward and Yixel can inform you about all the recreational options that can be enjoyed in the area.
Yixel is an excellent cook in preparing local dishes enjoyable at any time, especially seafood in coconut milk and other fare from the sea.

Room rates are affordable : 12-15 for bedroom for two (20 for 3); 17-20 CUC with breakfast; 25-30 with both breakfast and evening meal; lunches and picnics on request; parking for 2cuc for rental car; laundry service available.