INFOTUR (i) Tourist Kiosks — Taxi fare is 15-20cuc to/from downtown. Max. 3 passengers.
Havana Airport - Rancho Boyeros

Terminal 1 - Internal flights : Cubana, Aerogaviota and AeroCaribbean Booking Site here

Terminal 2 - Flights from the USA : Atlanta, Baltimore, Chicago, Dallas/Fort Worth, Los Angeles, Miami, New Orleans, New York, Pittsburgh, San Juan and Tampa + European charter flights

Terminal 3 - INTERNATIONAL FLIGHTS All regular airlines (80+) including Cubana's international flights Tel. (7) 833 5786 · 833-5777 · cell 52 66 46 44

Terminal 4 - Cargo

Terminal 5 in Wajay in the Boyeros burrough of Havana



CUBA'S DOMESTIC FLIGHT AIRPORTS

Baracoa BCA / MUBA "Gustavo Rizo" (21) 42-171 or 42-580 · 42-216
Bayamo BYM / MUBY "Carlos Manuel de Céspedes" 42-3916 · 42-4502
Caibarien MUCB
Camaguey MUFL "Ignacio Agramonte" (322) 6-1010 · 6-1613
Cayo Las Brujas MUBR
Cayo Largo "Vilo Acuña" Aerogaviota Operaciones (45) 48-205
Ciego de Avila AVI / MUCA "Máximo Gómez" (33) 25-717
Guantánamo GAO / MUGT "Mariana Grajales" (21) 32-3564 + NBW / MUGM – LeewardPoint
Guardalavaca MUGV –

La Habana Terminal 1 + 5 HAV
UPB / MUPB – Havana – Playa Baracoa
MULB – Havana – Ciudad Libertad
MUML – Havana – Mariel
MUSA – Havana – San Antonio de los Banos
QSN / MUNB – Havana – San Nicolas de Bari

Las Tunas VTU / MUVT "Hermanos Ameijeiras" (31) 42-702 · 46-873
Moa MOA / MUMO "Orestes Acosta" (24) 6-7678
Managua MUMG
Nicaro ICR / MUNC
Nueva Gerona GER / MUNG, Isla de la Juventud Aeropuerto Rafael Cabrera (61) 2-4259 + SZJ / MUSN Siguanea (Hotel Colony guests to/from Cayo Largo) Tel (61) 2-2690 · 2-2184
Pinar del Rio SNJ / MUSJ San Julian + QDP / MUPR + LCL / MULM "La Coloma" 5545
Santa Lucia MUSL – Joaquin de Aguero Airport
Sancti Spiritus USS / MUSS 24-316 · 23-104 · 20-6396
Trinidad TND / MUTD "Alberto Delgado¨


FREQUENCY & FARES OF DOMESTIC FLIGHTS

Schedule is up-to-date on this reservation sit :
http://www.flightsincubareservations.com/en/
Offices in Havana. Cubana domestic (internal) flights lea ve from Terminal 2
Cubana de Aviacion - Main ticket office : take a number and wait. Bring a book or lunch.

Calle 23 No. 64 corner of Infanta, a few yards from the Malecon in Vedado.
Phone (7) 836-4950 or (7) 834 4446 cliente@cubana.avianet.cu
AeroCaribbean the other Cuban airline flies to Managua, Port-au-Prince, Santo Domingo and Grand Caiman. It also offers domestic service from La Habana to Holguin, Santiago and Cayo Largo. It has rights to fly to Cayo Coco and Varadero but does not appear to have a schedule for these at the moment.


Most AeroCaribbean flights leave from Terminal 1. Main office is located at
Calle 23 No 64, corner of calle P in Vedado, La Habana
Tel.:(7) 832-7584, 836-5936. Fax:(7) 336-5016.
Reservations: (7) 879-7524, 879-7525, 870-4965.
reservas@cacsa.avianet.cu, reservas@aerocaribbean.avianet.cu

Reservations by credit card in Euros from their web site here.

Also check cubajet.com web site here.

LIST OF HIGHJACKINGS SINCE JANUARY 2000 IN CUBA
On this Wikipedia page aqui


CUBA'S INTERNATIONAL AIRPORTS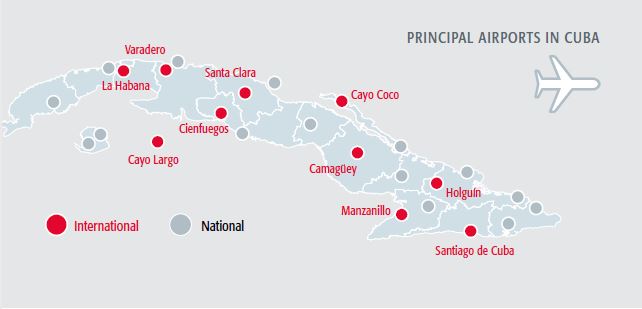 La Habana Rancho Boyeros "José Martí" (7) 833 5786 · 833-5777 · 266-4644 WEB HERE
Camaguey WEB HERE
Cayo Coco 30-1165 WEB HERE
Cayo Largo delSur "Vitalio Acuña" (45) 24-8141 · 24-8205 · 24-8206 WEB HERE
Cienfuegos "Jaime Gonzáles" (43) 245-1328 WEB HERE
Manzanillo "Sierra Maestra" (23) 5-4984 WEB HERE
Holguin "Frank País" (24) 46-2512 · 46-2534 · 42-5707 ·42-3182 WEB HERE
Santa Clara "Abel Santamaría" 20-6396 WEB HERE
Santiago de Cuba "Antonio Maceo" (226) 69-1014 WEB HERE
Varadero "Juan Gualberto Gómez" (5) 61-3016 · 61-2133 · 61-3016 · 61-4230 WEB HERE

Landing strips in Cuba : 181 (in 1998), of which 144 were paved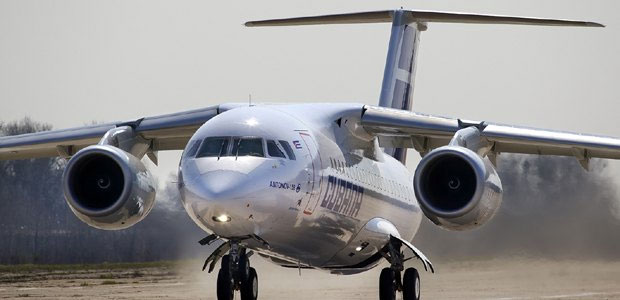 Antonov An158 [seating capacity 68-85] used by Cubana de Aviacion (which had 3 in 2013, 3 more on order) used for Santiago, Guantánamo, Holguín, Nassau, Santo Domingo, Cancún, Caracas and eventually Ecuador and Bolivia. photo © Oleg V. Belyakov / AirTeamImages / Wikimedia / CC





AEROTAXIS OF YESTERYEAR
Private cars are not the only form of transport where you can spot antiques. Some planes are old too ! Aerotaxi still uses these 70-year old Antonov 2 ! Just about as old as the still-running Douglas C-47's. They can be chartered (?), would have to check but don't yet have a phone in my Bombardier) for about 500cuc per day. Read your life insurance policy first.

Calle 27 No. 102, Vedado,
Plaza de la Revolución, La Habana.
Tel. (7) 832-8127