Orquidea Ana Lidia

In their very own superbly laid-out botanical gardens — kept with love and knowledge, Jorge and Ana Libia live in a nice country casa where they rent four large (capacity for three guests each) and comfy modern bedrooms, air-conditioned, each with fridge and ensuite bathroom; one has two double beds and a single; the other a double and a single; one has a kitchenette; each its own mini shaded terrace with rockers. Most recent are upstairs of a new building in back.

Lidia and Jorge's garden boasts some 25 varieties of fruits, 180 ornemental plants, 12 types of medicinal plants and of course, 35 varieties of orquids.

The bedrooms are on each side of a thatched-roofed, palm-tree-trunked columned ranchon where each room has its assigned table. Meals prepared by Jorge are lovingly served there.

Ana Libia has been working at Soroa's Orquideario for close to 40 years; she has her very own orchid (photo left). Friends and colleagues (who adore her like us) call her Ana Libia with a b. The couple and their son Tito get along in Ingles.

If the willows (sauces) are weeping here, it's from joy, 'cause it's our first choice — a memorable casa. One of Cuba's Top 10 for sure. Rates 25cuc per bedroom per night, whatever the season.

Casa Los Sauces is certainly one of our favourites, with its lovely rural and garden setting, and a super host in Tito.

"We had the two rooms located near the back of the property, which had very effective air conditioning and were spacious. The bathrooms were roomy, with excellent water pressure.

One of the rooms is actually more like a one bedroom apartment, complete with living and dining areas plus a kitchen area (it's not fully equipped though but it's unlikely you'll need to use the kitchen!).

Tito runs the casa on behalf of his parents, Jorge and Ana, and does a brilliant job of it. He speaks good English, ferries guests around to the botanical garden or the Soroa waterfall park for a reasonable cost and constantly checks to make sure everything is okay." nwtraveller2007, Manchester UK, tripad visor 210418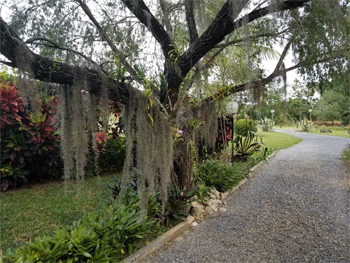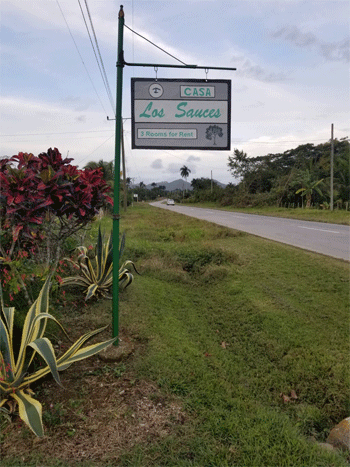 LOS SAUCES
Jorge y Ana con Tito
En su propio jardín botánico totalmente ajardinado y perfectamente conservado, Jorge y Ana Libia ofrecen cuatro dormitorios, unos arriba del edifico original el aire confortable, acondicionado, cada uno con capacidad de tres huespedes, nevera, baño privado con ducha y dos camas (una doble y una individual) y una mini terraza.

Las habitaciones están ubicadas a cada lado de un precioso ranchon; las nuevas estan arriba, atras, de un nuevo edificio. Comidas se sirven con cuidado y gusto en el muy bonito ranchon. Ana Libia trabaja en el Orquideario de casi 40 años.

La pareja y su hijo Tito hablan bien el Inglés. Si los sauces están llorando aquí, esta es la alegría : nuestra primera opción, una casa inolvidable, uno de los Top 10 del país. " Parqueo a mismo la casa.

Precios : 25cuc por habitación por noche.