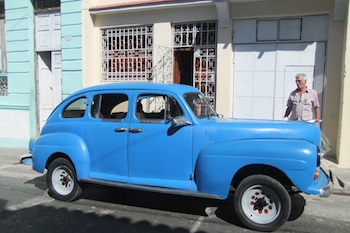 "After a couple of really depressing casas, we got a personal referral to Yuliet's--and what a wonderful change!

This is a lovely casa, and Yuliet and her husband and family were wonderfully friendly and welcoming."

Christopher Baker [Moon Handbooks Cuba] writes this is his favorite casa in town, "a true standout".
" The room was good-sized, with louvered windows opening onto an airy atrium. There was both air conditioning and a fan, and a large closet. Beds were comfortable. The bathroom was small but clean and well functioning. The two guest rooms are on the upper floor, separate from the family's rooms, with a shared kitchen area and fridge, a bar, and a lovely patio overlooking the street.

Yuliett is a very good and adventurous cook, giving us some unusual things that were a nice change from the standard fare we'd had in other casas. The casa is in central Santiago, easy walking distance to everying, but on a noisy street--all of central Santiago is very noisy.

However, our bedroom was in the back so it was pretty quiet. Yuliett is a delightful, outgoing person who told us much about Santiago and Cuba, gave us good suggestions and advice on places to go or not go, and made us feel instantly at home.

She was definitely one of the best features of the casa. Highly recommended! "

SFTraveler 063 tripadvisor 260611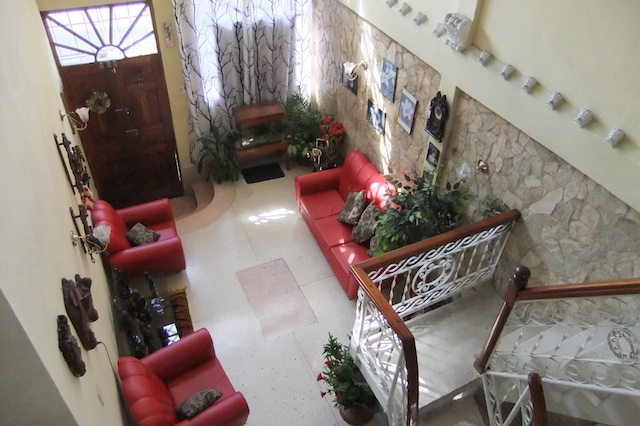 "I stayed for nine days in this lovely casa located only a few blocks from the Casa Grande Hotel and many other places of interest in Santiago. Check out the Iris Jazz Club only a few blocks walk--fantastic! The casa is quite large with several guest rooms--all of which are nice and quiet and safe.

There is air-conditioning and hot water. The kitchen is clean and they offer filtered water for free. The bedding is clean. A housekeeper will do your laundry for a small fee. There is a beautiful outdoor patio upstairs with a balcony and a rooftop that is seldom used. I enjoyed some great meals on the patio and I found the balcony an interesting place to watch the activities of the neighborhood in the early evening I had some good meals there. Yuliet will make what you request.

Some nights she is not available to make meals, but a great breakfast was always available..This is mostly a Spanish speaking household, but they are willing to make the effort to communicate. I speak a little Spanish which helped. I enjoyed every member of the family. The children were absolutely delightful and polite. Yuliett's husband was always welcoming and thoughtful. Yuliett was tremendously helpful and made a real difference in the enjoyment of my trip there. She was a good friend to me. I felt they all went beyond any expectations to help me find the people and places I came to see in Santiago.

Yuliett's brother also took me to see some sights in the area. He was incredibly helpful and patient with my Spanish. (We need to find him a Canadian girlfriend. All young Canadian women looking for a handsome, nice husband should check him out.) I would highly recommend this casa for quality and location. I would stay there again." DeborahK, Courtenay, BC, Canada, 260315 on ripad visor