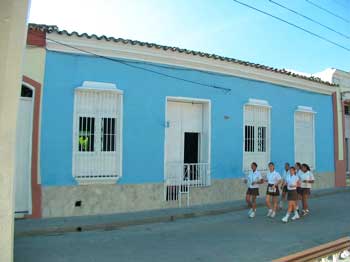 Facing the old Al Quitrin shop now a Museum to Vilma Espin Guillois, this vast 1850 colonial is lovely. Charming Raúl and Nena live alone and rent :
• Two large and well-appointed aircon bedrooms with fans and fridge sharing a nice bathroom (accessible from within the bedroom shown below).

• A very large double living room, then a small boudoir and a green and flowered patio with its veranda and bedrooms. Finally, an open-air kitchen and dining room.

Top choice of the ciudad : best central location, very quiet area, charming hosts, intimacy, comfort.

Rates : 20-25cuc per night per bedroom.