GUILLERMO y JUANA
Guillermo Marti Vazquez y Juana Maria Nueva
Calle San Fermin (Desiderio Eduardo) 158, e/ San Mateo (Sao del Indio) y San Antonio (Narciso Lopez), five block from Hotel Casa Granda. Tél. (22) 62-4451 cell phones 05 348-3665 Guillermo or 05 321-4090 Maria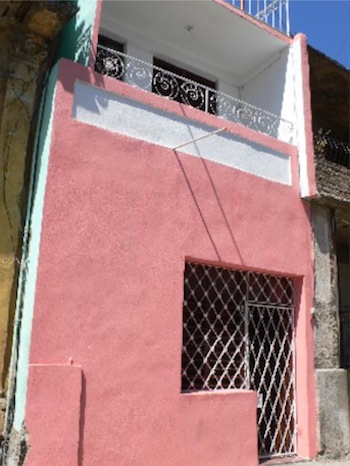 One climbs the stairs from street level, passes through the narrow casa of the hosts and climbs another staircase to reach the roof where awaits private quarters : one air-conditioned room with double bed, ensuite bathroom with fridge-mini bar and TV, a private terrace and view of the city with the Hotel Santiago hotel on the horizon.
The young couple provides meals, laundry service and tourist advice.
Guillermo, like his brother Juan Marti, has many years of experience, having served travelers in the casa of his parents Pedro and Rosa Marti on Calle Corona 805 (see our list).