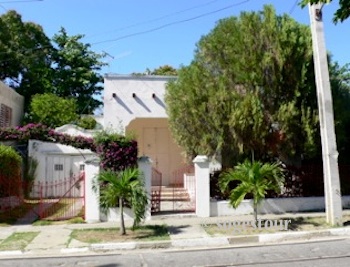 Vista Alegre, once the
local bourgeois reparto
Discovered by chance during a walk in this lovely and peaceful area - once the santiaguero bourgeois neighbourhood par excellence - this casa impressed us with its neo-Mexican frontage, its pretty facade and suburb-like garage next door.
Upon arrival in the living room, one feels that there is a soul here. It is evident in the sculptures and the development of large back garden with a swing for two, a hammock and all-around inviting greenery all for the sole enjoyment of travelers lucky enough to spend time on this site ...
Margarita offers one air-conditioned bedroom with double bed and an ensuite bathroom.
Rates: 20-25cuc for bedroom per night, breakfast. 4cuc; dinners 8-10cuc