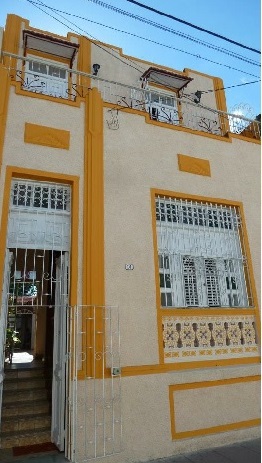 « We stayed there in January 2015. It was one of the finest and best casas we have stayed on our Cuba trip.
Rooms are brand-new and stylish in this colonial built in the 1930's, which they started renting in December 2014.
Alain spends three months per year in Italia; his parents and his girlfriend take care of the casa.
« We stayed for two nights in a beautiful room upstairs with our own balcony. The breakfast is excellent and the owner is very nice and helpful!
He told us the story about his house where he used to live as a child and which he restores now, part by part. When we got cheated by some cubanos who took the air out of our tyres, Pino went with us to a mechanic.

He also recommended us a very nice place in Trinidad. We'd love to stay there again, maybe it is the best place in town. Johanna S, Hamburg tripad visor, 14.08.15 »

« I stayed here in June and July. This hostel was extremely comfortable. We had hot breakfast daily. Eggs, pineapple, mango and papaya, hot Cuban coffee, and fresh baked bread with cheese. Our hostess, CiCi was fabulous. She made sure we had everything we wanted or needed. The alcohol content of drinks in Cuba has a low proof of 20-28%. Most drinks were very weak, except the beer. Ladyb, valley stream NY, tripad visor, 12.08.15 »

Rates: 25-30cuc per bedroom per night; meals served : breakfasts, 3-5cuc; dinners, 8-10cuc; laundry service; Spanish, English, Italian spoken.