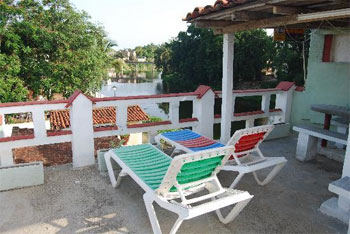 The premises were re-opened in 2008 after extensive restauration with huge rooms and rickety, "add-on" kind of rebuilding. The old casa was originally built in 1832.

Victor and his spouse Elena are very welcoming and rent two aircon bedrooms each with two large beds overlooking the rio, both with ensuite baths and one double and one single bed each.

Elena's cooking is something else, according to guests from Murcia, España. The two-level roof terrace is ideal with both shaded and sunny spots. English and French spoken.

Rates : 20-25cuc per bedroom per night, 3-4 p. breakfast, dinners 7-8.