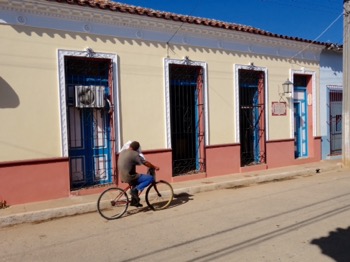 Hilda Carrillo, the Mayor's daughter - from two centuries back - had sold it to the parents of Pedro Julio and Doraida Agripina of Camajuani. They got it as a wedding (
boda
) present.
And so the señoritas purchased it in 2016.
The grand-style colonial was built in 1800 by the then mayor (Alcalde). The marble benches now in its patio used to be in the town's central park and were reserved for the mayor and his wife's behinds (narguas). Their names are still etched on them.

Liudmila, a Psychology Major is the present hostess with the help of her mother and a family friend; her sister Lumei travels with her Engineer husband - sometimes joined by family who have brought back artefacts from Asia.

Two large aircon bedrooms, each with two beds and ensuite are available for rent, one opening onto the front living room, the other on to the dining area with its rare vertical louvered windows.

Rates: 25cuc per bedroom per night; breakfasts 4-5, dinners 8-12, laundry service, taxi sharing to the cayos.