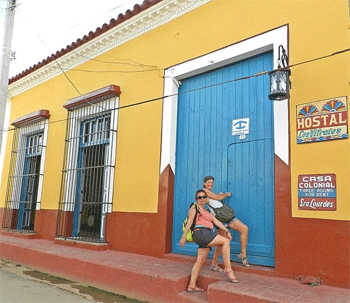 Lourdes and Miguel, both retired teachers, have been renting three ac bedrooms, each with two beds and ensuite bathroom - since 2008 - in this large colonial-style casa with some, you guessed it, stained glass windows (vitrales).

"We stayed at Los Vitrales, a fantastic XIX century house in colonial style. Very well-maintained and absolutely clean!

The couple is very friendly, expecially Lourdes who will tell you many things about the house, the place and the local traditions.

Breakfast is plentiful and very tasty. Lourdes is a great cook ! " Steanjb, Milano, Italia, tripad visor 07.02.17

Rates : 30cuc per bedroom per night (five for rent); breakfasts 3-5, dinners 8-15; tours and taxi sharing to the cayos available.

LOS VITRALES
Lourdes Gonzalez Dumenigo
Miguel Adolfo Llanes Lopez
Lourdes y Miguel, ambos profesores jubilados, alquilan tres habitaciones con aire acondicionado, cada una con dos camas y un baño privado desde 2008 en esta gran casa de estilo colonial con algunas ... lo adivinaste ... vitrales.

« De casualidad como suelen pasar estas cosas fue como conocimos Los Vitrales. Fuimos tres Amigos que no teníamos pensado parar por remedios.
Pero por cercanía a Cayo Santamaria decidimos hospedarnos allí.

« Lourdes y su marido son encantadores y demás está describir su preciosa casa colonial. Desayuno súper abundante y una de las noches nos dieron de cenar.... la mejor yuca frita que probamos nunca y una sabrosisima sopa de pescado. » Gaston Matias C, tripad visor 020417

Tarifas : 30 cuc por habitación por noche; desayunos 3-5, cenas 8-15; tours y taxis compartidos para cayos disponibles.