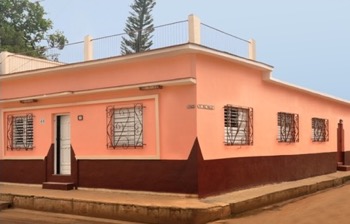 La Karolyna is a modern-style casa managed by Yunet and Emilda, daughter and mother of Ricardo Rondon of Casa Richard. His grand son and grand daughter Karolyna also live there, which explains the casa's name. The three-generational home is built around the patio with terraces on two levels.

The one bedroom for rent is a fine aircon habitacion with double and single beds, fan, fridge, table and chairs opening on to the patio. Breakfasts (5cuc) are served, dinners at Richard and Mirtha's a few steps away on the same street.

Rates : 30cuc per night for one or two guests, 5cuc more per additional person; breakfasts, 5cuc; laundry service; excursions and other travel services through Casa Richard.