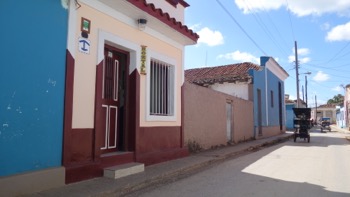 Laberinto
stems from legends while Duarveras is a combination of the hosts'
apellidos
(last names).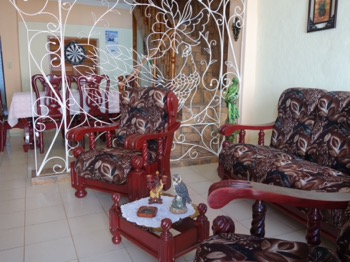 The town's Mayor, Falla-Bonet, restaured the town during his mandate from 1944 to 1954 but never acknowledged those stories but they remained in the local folklore.


Some are re-enacted every 24th of June with wild and crazy contests in the main square.
What's behind (or under ;-) this casa's name ? Laberinto (labyrinth) comes from myths and historical facts, about guijes (little people from the sea), aparecidos (sightings) and demonios (devilish creatures).

They haunted Remedianos who had to hide from pirates pillaging the town - in a tunnel joining the two churches, as the legend goes - in the first decades of its 500 year-old history.

Hosts Jorge and wife Maylet - a muy simpatico couple - hide no secrets from their guests in their three-level casa.

He used to work in the meat business while she studied folklore dancing.

On the ground floor, a small living and dining area with a desktop computer and fridge for the guests' use. From there, a narrow staircase leads up one floor to the bedrooms.

The red (roja) bedroom features two double beds, an ensuite bathroom, air-conditioning and fan, as well as its own large terrace.

The azul (blue) bedroom (#2) boasts two double beds, a nice all-white shower and washbasin room, a wall fan and aircon unit and a luggage bench.

It has its own large private terrace overlooking the street (night photo below) and another space outside, by the stairs leading to a vast covered rooftop lookout with table, chairs and a billiard table and a huge mango tree as background, no less.

Rates : 25-30cuc, breakfasts, 4-5; dinners 8-15, laundry service, excursions organized as well as taxi service - shared or personal - to the cayos or anywhere else.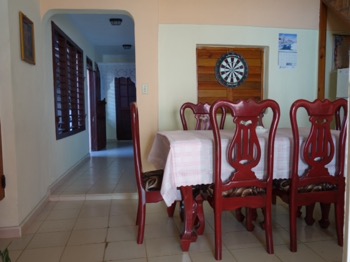 El laberinto hace referencia a las leyendas que forman parte de los 500 años de historia de la ciudad.
Han dicho que habia un tunel entre las dos iglesias. Era donde que se refugiaban Remedianos durante el edad de oro de los piratas.
EL LABERINTO DE DUARVERAS
Jorge Duarte y Maylet Lloveras

Hoy, no tienen que se esconder los huespedes en esa encantadora casa donde Jorge y Maylet acogen viajeros en sus dos grandes cuartos, arriba de la sala-comedor (con su conexion a Internet).

El cuarto 1 (rojo) tiene dos camas matrimonios, ventilador, un baño privado y tambien un balcon amplio.

La 2 (azul) tiene dos camas cameras, una mesa por equipajes, ventilador, lampara y un balcon abierto a la calle y un otro al lado de la escalera llegando a un inmense mirador con mesa de billar.

Precios : 25-30cuc por cuarto por noche, desayunos 4-5, cenas 8-15, lavanderia, excursiones a los cayos y en la zona en taxis privados o compartidos.