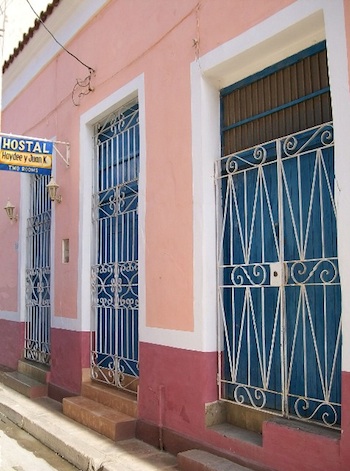 The couple wrote in April 2012 : "We have a hostel in the city center with three bedrooms with very good comfort, with air conditioning, fans and natural ventilation as they all have windows, private bathrooms, each with a queen bed; if customers want it can be add another bed for an extra guest : may be up to 4 people.

We have a courtyard decorated with plants and also three terraces all with different features, a gazebo where you can see a panoramic view of the city and the sunset .

We serve gourmet food, we have a cocktail bar, internet, massage and laundry services; parking nearby, also if the client prefers, a separate entrance.

"In the paladar (private restaurant) space, we also offer dinners to groups up to 18 people, or families wishing to dine on the terrace in a nice atmosphere, enjoying a tasty mojito or the house specialty refreshing pina colada, we want to be on their website.

Rates : 25CUC high season, low season 20; 30cuc for 3, 35 for 4; breakfast 5cuc, dinner 8-12 according to menu choices."