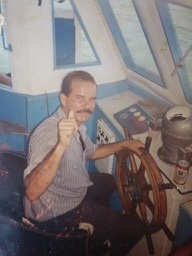 Jorge knows the cayos like no other : he captained a boat — over a decade through the Cayeria norte — plying the waters for divers and happy campers during the 70's.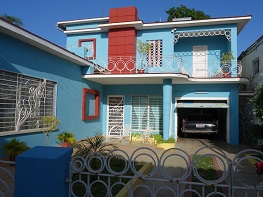 Over the last 25 years, Jorge and Gisela have acquired great experience and attention to detail which make this art deco house (known to most Remedios citizens as El Chalet or la casa de vidria, the glass house) an ideal place to stay. The couple rent two air-conditioned bedrooms each with its own bathroom; access is by a passageway on the left of casa leading to the patio where one enters the ground bedroom or up stairs to the 2nd bedroom.

The first bedroom is newer, on ground floor. Guests enter through their own breakfast room, separated from the living room. Bedroom has two windows, a double and single bed, a fridge and a private new modern shower room.

The second bedroom is larger and reachable from the patio by a spiral staircase to a terrace (with a view of the town's two steeples,. Its door is on a balcony above the garage. Its own little boudoir (bar sink, fridge and table) leads to the large room with two double beds and windows. Ensuite bathroom. One of our favorite bedrooms on this island.

Right by, the roof terrace (azotea) is an ideal spot to admire the starry sky, chilling in the rockers.

Mouth-watering meals (superb and tasty cuisine) are served on the patio or, if so desired up to the roof terrace.

Rates : 20-25cuc per bedroom per night; breakfasts 3-5, dinners 7-8cuc; laundry service; parking on premises; Jorge can arrange taxi sharing for the day trip to Las Gaviotas beach.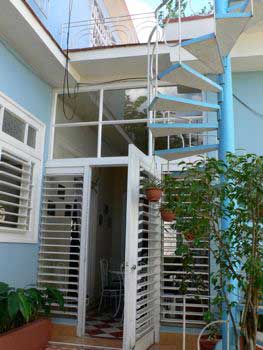 Arriba es la 2da habitación - que se llega con una escalera - con su apertura en la azotea (mesa y sillas, vistas a las iglesias de Parque Central) y con su propria antecámara (mini refri, sofá, sillas, mesa, abertura de la ventana al techo), la otra habitacion tiene dos camas grandes con lámparas de lectura a la altura correcta (raro) y un cuarto de baño privado adentro.

EL CHALET
Jorge Rivero y Gisela Mendez
Hace mas de 20 años, que la pareja de anfitriones ejemplares (siempre mejorando la casa) y muy atento ofrece dos habitaciones con aire acondicionado, cada una con baño privado.

La habitación nueva de 2017 esta localizada al nivel de la sala y cocina, al lado del patio.

Tiene un cama doble y uno sencilla y un moderno baño con su ducha y lavamano, aire acondicionado, un refri y dos ventanas; ademas, su proprio comedor por el desayuno, si querido.

La observación de las estrellas desde las sillas de la terraza es una forma sublime de terminar el día. Una de nuestras habitaciones favoritas en todo el país.

Las comidas, preparadas por un pariente de gran talento, se presentan con especial atención al patio.

Tarifas: de bajo a 20 hasta 25cuc temporada alta por habitación por noche, 3cuc desayuno, cenas de 7-8cuc; parking privado, lavanderia, busca de taxis compartidos por los cayos.