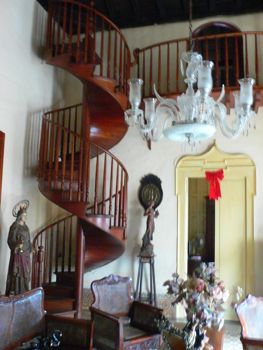 Ex-hairdresser Kaky along with her gynecologist husband Luis have done a remarkable job of restauring this grand colonial.

From the hall (portal) a lovely wood corkscrew staircase leads to a unique all-wood — ventilated only — bedroom with private bath, a marvel with a discreet view of the statue of liberty.

They usually rent the two other a/c bedrooms with private baths on each side of the dining room, by the patio and roof terrace populated by caged birds.

Meals are served in the dining room. The patio is a two-tier showcase for plants, shaded on the ground and sunny on top, with the quiet choir of birds.