VILLA DORA
Dora Gonzalez Fuentes & sisters Sandra y Fortuna
Pelayo Cuervo 5, near calle 13 de Marzo, two blocks from main street Frank Pais. BEWARE of jiniteros hustling you for another casa, inventing lies for a commission. Tel. (48) 79-39-10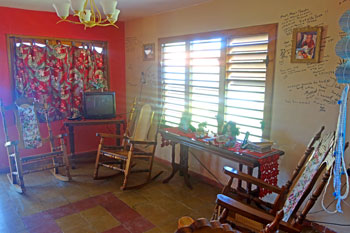 Dora's place has a relaxed atmosphere, patronized by true travellers; graffitis cum compliments adorn some walls. One says (below) Dora knew the Che — who established his comandancia nearby during the Missile Crisis of 1962.

For decades, a popular haunt of sailors who threw anchor in the town's bay, Dora's place is the house of a local hospitality pioneer.

With their own living room and kitchen (all recently renovated), guests may rent two aircon bedrooms (one in front by the living room with one double bed and the other quite large with three beds with shared bathroom in the main building on the lot. In the back, Dora's bedroom and the service kitchen.

Meals served on the patio.

Rates : from 15cuc per bedroom per night; dinners 6-8cuc.