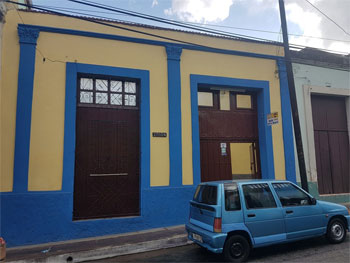 " In addition to having an enjoyable time staying here, it was fascinating to see the inside of a typical house in Matanzas which, having once been a major port, has a different design to say those in Havana.
" A courtyard at the front of the casa in which the horse, car or lorry was kept, and the house itself running back from there, designed to take maximum advantage of the shade.

Roberto and Margarita are friendly hosts and full of information about what to see and do in Matanzas, a city of which they are obviously very proud and which is at long last seeing new investment for its future. They live next door and secure car parking is provided round the corner.

There was an excellent breakfast and though the bedrooms were relatively basic, they were air-conditioned and there were plenty of sitting areas outside. The breakfasts were excellent with fresh fruit juice, fruit, breads, eggs, cheese and meat. " IanC, London, UK, 260318, tripad visor

Rates : 25cuc per bedroom per night; breakfast and dinner served; laundry service.

ROBERTO y MARGARITA
« De casualidad llegamos a las puertas de Roberto y Margarita, quienes nos recibieron con mucho carino y con una amabilidad enorme. Nos sentimos con ellos como en casa. Son una pareja encantadora y estamos muy felices de haberlos conocido.

« Recomendamos mucho su casa particular, no solamente porque es una casa preciosa y amplia, además de limpia y céntrica, sino sobre todo por la calidad de seres humanos que la ofrecen. La comida es además deliciosa! » elsacardona, bonn, deutschland, 010307, tripad visor