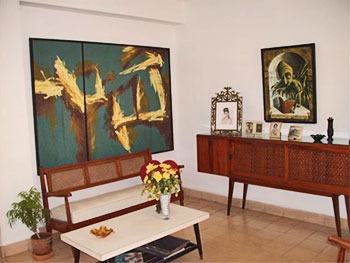 Marta is a practicing child neurologist and has been renting since 2005.

The large bedroom she rents is air-conditioned, has en ensuite bathroom, a commode, an armoire, mirror, fan. Meals are prepared on request; secure street parking steps away. A tiny sun corner is handy for reading.

Her daughter is a solo violinist with the Orquesta Sinfonica de Matanzas and her son Ruben Fuentes is a painter now established in España; Marta's father spends part of the day in the casa to help along while Marta is at work.

Rates : 20-25cuc for bedroom per night.
" I spent a week at Marta's. She was warm and hospitable, like a mother. She said I reminded her of her son, but maybe she says that to all her guests. I went to Havana for a day and came back to find Marta waiting up, worried about me. She's a great cook, too." Alan Gasser 29.03.12