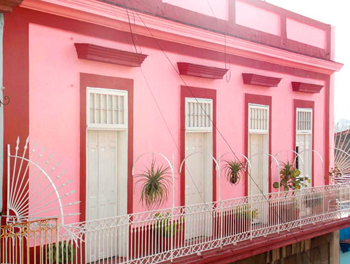 One of Lonely Planet's ("magnificent") local favorites as well as Frommer's ("Best Accomodation and food in town").
An 1850 colonial located in the historic centre, this "Soul Hostal" features large rooms, lovely flooring and rare mediopuntos (arches).

Mayra rents in the quiet back two a/c bedrooms each with ensuites, fridge and radio.

One with a double, the other with a single and a double. Huge terrace at the living room level and yet another with fabulous views, one staircase higher.

Rates : 20-25cuc per bedroom per night.

We had it listed since 1999 as "Casa Luis Alberto Hernandez, Mayra's deceased husband".