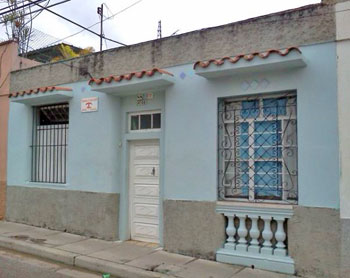 Manuel graduated in Computer Science while Raquel works in accounting at a local bank.
According to Sonia Fréchette the referer, although the pair does not have much experience - since late 2012 - she writes :

"Maintaining good lodging facilities and responding to customers' needs in my opinion is more than just a matter of experience. It is a matter of the heart to work and it requires to be warm and quiet times.

"I think my friends have it all and that is why I decided to help. Also, I think this casita has a special charm that might interest some travelers.

"Travelers may rent for prolonged stays because the casita includes a functional kitchen that allows you to cook yourself. And they just installed an air conditioner. "

Rates: 20cuc for the apartment per night; breakfasts 3-4cuc; dinners 8-9cuc.
Here's how they detail their "casita" (small casa) on offer to travelers :
• Living room with sofa and armchair, table and lamp.
• Living & dining area with kitchen, electric stove, table with four chairs and a granite countertop.
• Bedroom with double bed, two side tables, ashtray, clock, plus a dresser and rack to hang clothes, the room has air conditioning and mirrors.
• Ensuite bathroom with white tiles, hot and cold water 24 hours a day.
• The entrance to the rental space is at the rear of the house, so it is independent and private. Moreover customers can access the courtyard between the rental casita and the main house. The house has no terrace or portal.