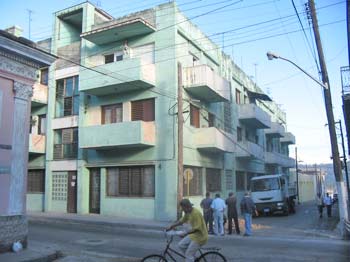 On the second floor of a modern building dating from the 60's, a large apartment with living and dining rooms and at the end of the corridor, two air-conditioned (fridge and tv, and hi-fi an free wi-fi) bedrooms each with ensuite bathroom.

The far end bedroom has two beds and a pleasant balcony with a new awning.

They will not allow guests to invite chicas.

Casa has access to a garage for your car; free parking.

Rate : 20-25cuc for each bedroom Succulent cuisine : breakfasts 5cuc, dinners 8-10cuc.