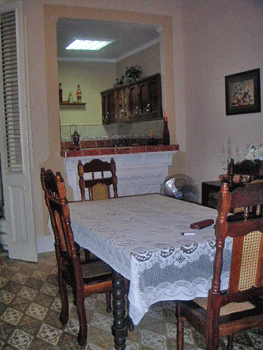 Neighbour of Noemi's and Gerardo's, and Manolo's, three apartments we first visited many years ago.

All have all been renovated and modernized, proving casa owners reinvest a lot of their revenues in their amenities to increase the quality of their offers.

Lawyer Olga's, in particular, is superbly decorated with a distinct taste and attention to detail.

She rents two aircon bedrooms with private bathrooms with a nice living room and a naturally-lighted patio.

Meals served, parking around the corner.

Rates 25-30cuc per bedroom, 'tis a very good value for the chavito !