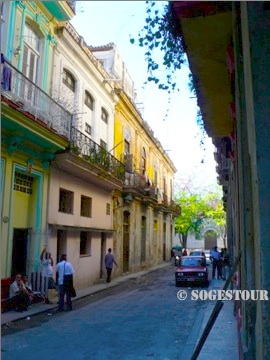 Juanita's is next door to casas Saul and Cristo Colonial (Belkis y Jeiver) (#16) and Bertha (#12).

Upstairs of this colonial has been completely and very recently renovated with modern equipment and with taste.

They offer two air-conditioned bedrooms, each with a private modern bathroom.

Both are zen-like furnished and open on a wide light-full patio, partially shaded with tables for reading or breakfast.

On the street side, two living rooms, one with balcony over calle Cristo (being redone when we visited); at the back, a dining room next to the kitchen.

Rates : 30cuc per bedroom per night;meal service, laundry service

This casa used to be named Casa Ricci; was acquired in Jan 2011 by Juana for her two sons Roberto and the elder Ernesto, an attorney.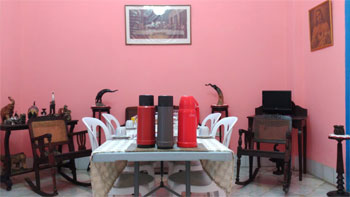 "Juanita and her family - including Mr. Evelio - were very friendly and helpful re: information about bus tickets, getting to the beach, food options etc.

"The room was clean and comfortable with a functional fan and air conditioning unit. Breakfast was huge and the homemade guava jam was delicious!
"They also provided filtered water that we could take with us when we went out which was very convenient. In terms of activities the casa is very close to most of the popular plazas, the Malecon, Transtur bus pick up points etc. which made our sightseeing a breeze.

"Like most Casas in Old Havana there were a lot of stairs but its good exercise :-)" ayanawalters, tripad visor 120317