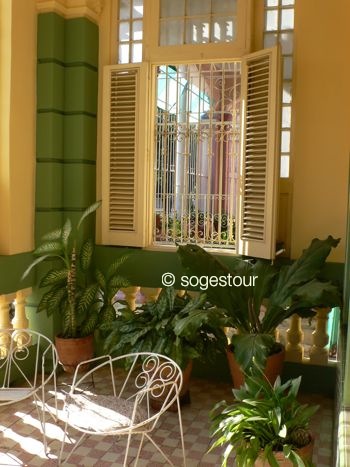 Mirtha (researcher and historian by profession, ex-radio show host) is a very agreeable retired person who has been renting for over a decade and offers two aircon bedrooms each with an ensuite bathroom.

Husband Jorge is the real dynamo of the house, helpful, kind and knowledgeable.

One bedroom is just behind the dining room with one double and ensuite and a 2nd bed on a mezzanine; the other is in the back, pas the kitchen and opens onto the small shady and cosy patio/breakfast and dining area shared with the front bedroom guests : it has a double and an ensuite bath. Rooftop terrace, large living and dining areas.

Breakfasts are included in the per night rates and the meals are prepared by her very talented grandson Abel Enrique who aims to be a hotel chef one day — so taste the delicacies while they're hot !

Rates : 25cuc per night per bedroom including breakfast.

LOCATION
In this quiet area of Vedado near the Astro inter-provincial bus terminal (shared with Viazul so you don't have to go all the way to the Viazul main terminal), this little neighbourhood (mini-park with its convenience counter, hotel in pesos for Cubans, an El Rapido bar cum pizza joint in a lovely building) is kinda nice and well-located because, from nearby Carlos III ("Tercero") boulevard (and Cuba's largest "choping" mall), one can walk directly to the Capitolio between Centro and Vieja.

Close by, some 2 mins walk away is the Habana Bus Tour (a 5 cuc per person daypass will buy you a tour of the city on the double-decker red bus, another to Marina Hemingway in Miramar and even a ride to and from the beaches of Playas del Este).

One street further from that Bus Stop and you're at the foot of the Jose Marti Memorial (Tower, Museum, Observation Gallery), the National Theater, Library and Assembly buildings as well as the famous Minint tower with its huge Che on one side.