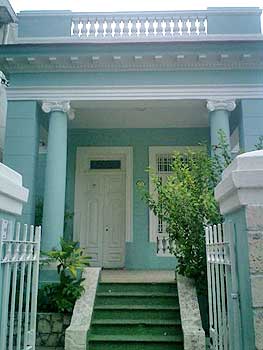 Prisca is a teacher of music history. She describes her casa thus: " Quiet casa where three jovial people live (my spouse, my son and myself), all musicians who can inform our guests about cultural life in the capital.

" Our two bedrooms are large, ventilated, air-conditioned and each has its own fridge, tv set and private bathroom. One has a double bed (for a couple) the other has a double and a single (for friends sharing or a couple with a kid). "

Although they play and appreciate music (Prisca prefers classical, her spouse goes for salsa, their son, jazz), they respect their guests' wish for peace and quiet.

The family has been renting for 6 years and only serve breakfast for 3cuc; dinners can be arranged on advance requests and only for longer stays.

Rates : 25-30cuc per bedroom per night according to season.