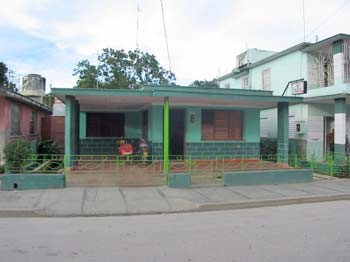 Bungalow-style, well-appointed casa.

Once you've reached the back, you're in a mini resort with its vast patio with tables, recliners and even a small bathing pool.

Two comfortable air-conditioned bedrooms, each with their modern full bathroom.

Preferred is the one in front with its private entrance, away from the seemingly constant patio activity where the 2nd bedroom is located. Varied choices in meals.

Rates : 20-25cuc based on season, per bedroom per night.
Return to peace
"I had the pleasure of another stay at Villa Lucia. As always the food was excellent and my hosts were warm and welcoming. The room, as usual, is maintained everyday by their staff members and the laundry service is top notch.

The Villa is located close enough to the Central square that it is convenient but still private. It is located in the affluent part of Holguin and 40 minutes from the resorts. Food is better than at the resorts for me.

I have been back time and again to Villa Lucia and never had a problem with anything." Wazim S, tripad visor 110717