The couple rent two ac bedrooms in this 50's era bungalow. He is of Lebanese origin and an excellent cook of vegetarian meals. She is a psychotherapist and a (very rare in Cuba) practicioner of reiki, yoga, massage and meditation, services which she offers as a supplement.

Each bedroom has air-conditioning, ensuite bathroom, fan and two beds (one single, one double), TV and refrigerator.

All this is complemented with a nice patio where you can sample the cuisine of Jorge or the calming hands and mind of Mariela with some yoga or meditation.

Rates: 20-25cuc per room per night (triple 30cuc); laundry, parking, orientation services.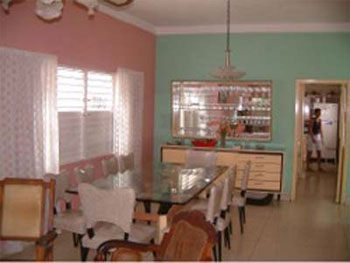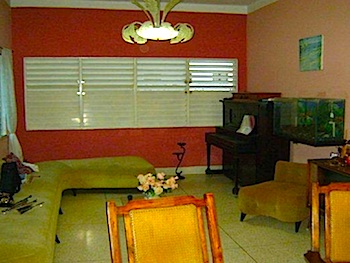 Amazing (gluten free possible) breakfasts, friendly, helpful
« I can't eat gluten or dairy - when I told Jorge that, he didn't bat an eye. He's generally smiling and he seems to have an answer for everything anyway, but this time he said - "no problem, we have casabe."

Are you kidding me? My first morning in Cuba and they have wonderful pancake-like bread made out of cassava (yuca root). It was great. Tons of fruit - fresh mango, papaya, pineapple... mmmm - eggs made al gusto, ham, good coffee or tea, and yummy fresh guayaba juice. You eat in a pleasant courtyard.

« Mariela is a treat too. She does great (and reasonably-priced) massages with Reiki. I didn't have one myself but my friend had one and loved it - said it was better and quite a bit longer than most she's had in California.

Mariela was gracious and generous. She has a wealth of natural healing knowledge. She also does watsu and other healing practices. And is down to earth to boot.

They're not far from the steps up the hill - go there at sunset and get some exercise climbing the 400+ steps and see the little conjunto of three or four people playing Cuban music - they're great. » brandonvj 220317, tripad visor