On the sea, in one of of the exclusively residential areas of Guanabo, some 15 seconds walk to Playa Guanabo, the entrance is above.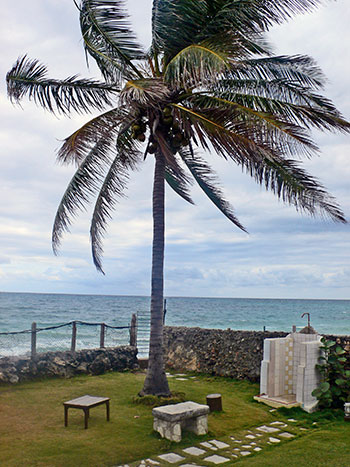 After entering (above) there is a yard (with washbasin) that can serve as dining area, where you get to an independent doorway leading inside.

Seaside casa, 15-second walk to Guanabo playa.

Private kitchen, large sparsely furnished living and dining room, balcony, patio right on the sea.

Two aircon bedrooms, shared bath.

Note : the bedrooms are not rented to couples who do not know each other, ie, you rent the whole place, whether for 2 (40cuc per night) or 4 persons (60cuc per night).

If you do not wish to prepare meals yourself, Nancy can arrange to have them prepared and served to you.

Expect about 3-5cuc for full breakfasts, 7-10cuc for dinners.

Assured parking in front.

No rental car ? From La Habana, get on the (5 cuc per person per day) HabanaBusTour (every 30 mins from 9h to 22h) leaving every day from Parque Central whose last stop is Hotel Arenal then grab a taxi which should take you here for 2cuc max.