CASA MADAY
Sra. Maday Simón Risoto
Calle 468 # 915 entre 9 y 11, reparto Bello Monte, 400 meters from the sea, on the corner from Casa Vicente y Clarita. Tel. (7) 796-3955 cell (5) 296-3811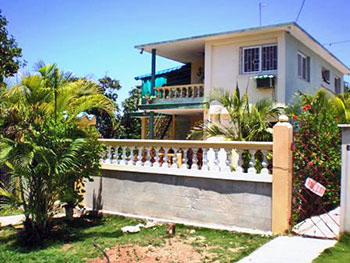 Señora Maday and her esposo offer a nice independent-entrance apartment up a few blocks from the sea.


As Maday — a retired nurse — explains : "We rent two aircon bedrooms each with ensuite bath, fridge, tv with a handy small living room to welcome visitors, a fully-equiped kitchen to prepare and serve your own meals."

"As well, our clientele can enjoy a nice open-air terrace, a tropical patio with plants; the casa also has a garage and offers laundry service.

"About three blocks away are shops and stores including a bakery and an Internet room, etc.

"We can prepare and serve nice full breakfasts and great Cuban criolla dinners as well as drinks; we are available 24/7 and offer rebates for stays longer than 20 days. We can get along in Portuguese, English and Italian.

Rates : 25-30cuc per night per bedroom; breakfasts 3-4cuc, dinners 7-10cuc