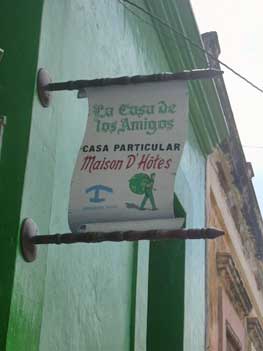 Chantal renovated and decorated this neo-colonial casa and operated it for a few years until 2011. She now lives in La Habana where she runs a paladar in Vedado.

Lilian, related to next door's Los Hermanos - offers the same three well-appointed bedrooms, each with their own private modern bathroom. Muchos paintings from local artists.

Patio divided in areas : bar, dining, reading and a conversation corner with upholstered seats.

Meals served. "One of the most amazing casas in Cuba", says Sainsbury in Lonely Planet Cuba.

In front, the classic sala (living room) opening onto the street boasts a huge mural with the Che.