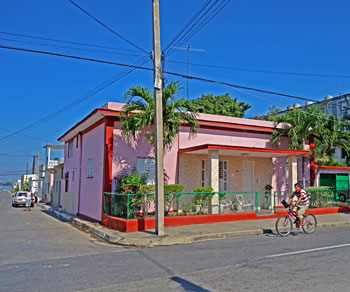 Since son René ("Regino") has taken over the management of this lovely bungalow, the casa still offers for rent two ac bedrooms, a lovely patio and modern ensuite bathrooms, but René [having grown up meeting people from all over the planet] abides by the philosophy that "'tis better to rent both bedrooms all of the time at a lower rate than wait for someone to show up to pay double".
Both bedrooms are behind the double living room at the entrance of the house, between the kitchen and the patio : one with a double and single beds the other with a double and a medium.

Guests can enjoy the shaded space for breakfasts and dinners; a tiny terrace above the garage allows space for reading and sunning.

His business acumen has allowed René to make friends, meet backpackers and budget travellers who have appreciated his unusually-low rates and in return who have invited him abroad to get a taste of budget travelling, even couch-surfing.

Personally, we are enchanted having supported Carmen's place for close to 20 years (casa used to be named Carmen Rosa Capiro) now and seeing her son picking up on Cuban hospitality. Regino speaks 5 languages, of which English very well, gracias.

Rates : 12-20cuc per bedroom per night; breakfasts 3-5cuc, dinners 6-8cuc; secure car park on property; laundry and taxi services available.

With these rates, no wonder the casa is almost always filled with happy campers. Book ahead, Fred !


« Carmen's son, Rene, speaks excellent English and is a tour guide. He understands that there are all kinds of travellers and budgets. We ended up staying 5 nights with them as there was a professional cycle race on 3 Feb. with over 100 international riders. We joined the locals and lined the Malecon to watch the action. Good atmosphere. » Tracy and Diane Horsman on tandem bicycle, February 2002