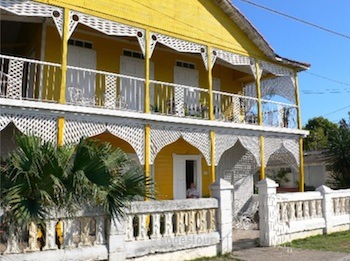 Rosa is a nice retired lady who has decided to emulate her neighbors of the tip of Punta Gorda : Olga, Maylin, Magalis - and her upstairs neighbour Miriam (La Estancia).

In this beautiful and rare wood construction decorated with lovely lattice, Rosa occupies the right half of the ground floor with its front terrace and rockers and offers one air-conditioned room with a huge bathroom. Only breakfast is available - no dinners available.

Beautifully furnished and decorated, the casa has in the back a patio opening onto the pedestrian passageway of the neighboring rental casas where travellers can enjoy the shade as well as the sun.