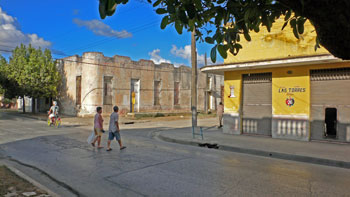 Neighbourhood - Some 100 meters away is Plaza Joaquín de Agüeros (Plaza De Méndez).

The quiet neighbourhood also features boutiques and cafeterías (fast food El Rapido nearby), a fruit and vegetable market (Mercado agropecuario), a health clinic, post office, a Casa de la cultura, childrens' theatre, a rentacar office and much more.

Guests will also find nearby the Museo Provincial Ignacio Agramonte, Iglesia San José, the Puerto Príncipe Hotel and a bank with an ATM (cajero automático).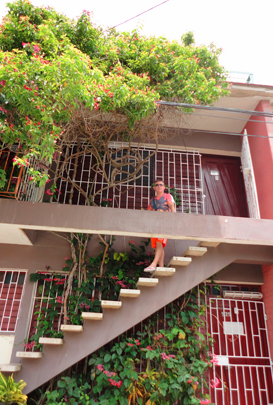 In her luminous and naturally-ventilated and newly-agrandized casa, Miriam rents three aircon bedrooms each with private bathroom, minibar, tv, telephone.

And she offers a large rooftop terrace with plants shade and chairs and tables.

Also, a room for smokers and a garage for the rentacar as well as an international phone line and laundry service.

Miriam is an out-stand-ing cook, let it be known and she can prepare all three meals.

Rates : 25-30cuc per bedroom per night; breakfasts 3-4cuc, lunch or dinners or lunch from 7 to 10cuc per person.

Wait, there's more : free pickup from bus or train stations; 10$ to/from airport.

P.S. Not to be mistaken for Casa Guerra on Avellaneda.

"We stayed here for 2 nights and are glad we chose this casa. It is about 20 minutes walk from the centre but it's easy to find your way and it means it's away from most noise and jiniteros (touts).

The house is lovely and looks more like a house you'd find in North America than Cuba. The breakfasts were nice, filling and cheap and Miriam is very friendly. There is also a nice cat and dog.

Of all the casas we stayed in this was definitely the best and the one where we felt the most secure and sure of what was going on. Miriam sent a driver to get us from the Viazul station for a reasonable rate and he took us back when we left even though we had to leave at 5.15am." Emma B 090817 - tripad visor