CASA LOS HELECHOS
Maria Isolina Cisneros Díaz & spouse Victor
Calle República No. 68, entre Pobres y Luaces, facing Museo Estudiantil. Tél. (32) 29-48-68 Cell 52 31 18 97

NOT TO BE CONFUSED
with a casa named Conchita Balcon de Los Helechos on General Gomez # 253 | Apto # 3, e/ San Ramon y Goyo Benitez.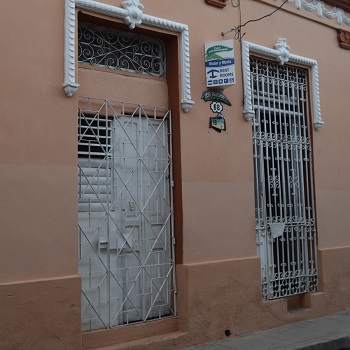 In the city's historic centre facing Museo Estudiantil in an area where you can find Plaza San Juan de Dios, Parque de las Leyendas, Parque Ignacio Agramonte and the Casa de la Trova, three blocks from the centro comercial of Camaguey and two blocks from its fruits and veggies market the so-called mercado agropecuario.

What Maria calls "The Ferns" or helechos is a casa colonial opening to a long corridor colored with greenery.

For rent, one independent entrance apartment with kitchen, living and one ac bedroom with one double and two single beds. Downstairs a large two-bed room with its private bathroom.

Whether in its kitchen, living room or elsewhere, the basic and apparently modest amenities are endearing as is Maria's company and generosity.

Victor and Maria crate a true family hospitality, while the hostess loves to look after visitors' children.

The house is great for spaces where one can enjoy quiet reading.

Rates : 20-25cuc for bedroom per night. Napoles, cubaradiso 120408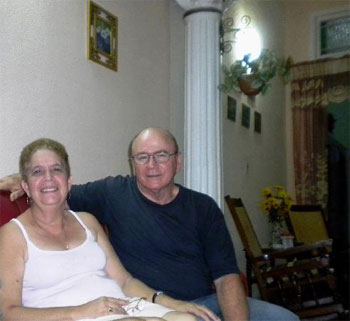 "There seems to be a misunderstanding of casa particular. There are two who have the same name in Camaguey... Ours was in Calle Republica whose owners are Victor and Maria who were really adorable. In fact, we stayed at this casa twice and on our second visit we were treated like friends.

"The first time we stayed in the corner part of the street, which is a duplex with its own entrance, kitchen, bathroom and a small sitting area on the ground floor and a bedroom with a double bed and two single beds plus a stone staircase on the upper floor. Victor prepared dinner and breakfast the next morning. The dinner was excellent and very rich.

"For the second time, we slept in the main house where there is a guest room. The room has its own bathroom and kitchen, breakfast was served. The rooms were immaculate and the breakfast both times was very good and one of the best we had during our two weeks in Cuba. Victor was very helpful and kind to book us a chosen restaurant. » Jinty27, London UK 230317 visor tripad