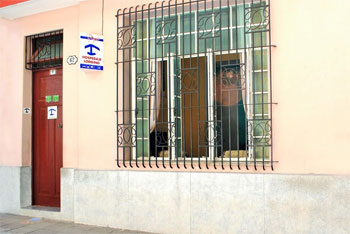 The couple has been renting since the beginning of the century offering two spacious bedrooms with windows that allow natural ventilation including a new bedroom on the roof.

Each can accommodate up to 3 people; each with private bathroom, air conditioning, TV, refrigerator, table fan and closet.

Rates : 20-25cuc per night for room; desayunos 3cuc; dinners 5-10cuc; in-casa extras available : Dinner, Breakfast, Laundry. Breakfast included in room rate — in low season. Discounts for longer than 15 days. Coordination of taxis and tour services. They rented on calle Santa Rita until 2014.
"We stayed seven nights in Camaguey. Evelin and Daniel provided a warm, friendly and clean environment for our stay, attending to all our needs. Their casa is on a fairly quiet street, but very close to the main pedestrian avenue (Republica) and one of the few parks/squares where internet is available. We were in the upstairs room with an outside terrace (undergoing improvements) and, convenient since we stayed a week, a clothesline." Dorothy L, Ottawa Canada, tripad visor 091217