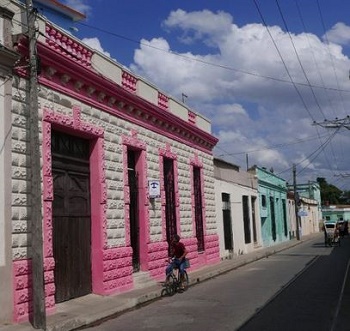 In December 2016, casa Dalgis moved on the same street - Independencia - from number 251 (where it was for 15 years) to number 64, off-centre in a quieter stretch.

The large colonial-style casa was built in 1863 and was in dire conditions when the couple moved in. A group of valiant fixer-uppers took two intensive months to renovate the place.

The new spaces include a large living room (portal) with arches and columns leading to a humongous patio with the bedrooms to the right with their doors in the shade.

These all feature the new ("split") aircon units and an ensuite washroom with shower, toilet and washbasin; two have two double beds; the third, a double and a 3/4 opens near the dining area; on roof (up an odd and unique staircase in a tower), the mini-apart with kitchenette has one double bed.
In the back, a dining room and the kitchen; where the horse stalls were in front, now sits a two-car enclosed garage, behind some remarkable wooden doors.
Rates : 20-25cuc per night per bedroom. Breakfasts 3-5cuc, meals 6-8-10cuc; laundry service; parking on premises..