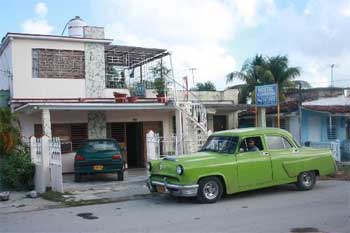 " We had a very good time at Hostal El Carretero, and Fernando and Mayra are lovely people. " Robert & Annemiek Komen, Amsterdam, The Netherlands 19.03.06



The amicable couple offers for rent two air-conditioned bedrooms, one with a double bed in front, the other with twins; sharing a bathroom.
terrace, meals served.

"There were two bedrooms both nice and clean plus a terrace for each. The owner - Fernando - is a really nice man who can tell a lot about the Cuban life and gives good advices concerning beaches, restaurnts to go etc. Closest beach was 30 minutes by car.

Definitely a good choice when you want to see Cayo Santa Maria but still want to experience Cuba and avoid the touristy hotel enclaves." MartinayD, Vienna, Osterreich 190911

Rates : 20-25cuc per bedroom per night; breakfasts 4, dinners 7-8 and more based on menu items chosen.
"My husband and I were travelling with a friend, so we rented 2 rooms in this casa. Fabulous balcony to watch the Cuban way of life go by and hear the sing song voice of the sellers. We had a safe place to park our car behind a locked gate.

You have use of a fridge. Our host was friendly and served a basic standard Cuban breakfast (his wife was away caring for the grand children). He had some English, and we had some Spanish so we had a very nice visit. He gave us great advice for a nice paladar.

This town is authentic Cuban, very interesting to walk around, you see the resourceful Cuban people dealing with life. There are only a few cars so you share the road with horses and bikes. This is also a good base for visiting Cayo Santa Maria if you want to avoid that "all inclusive" experience.

We stayed 2 nights, 1 day to visit Caibarien and 1 day to visit the Cayo. I would return again." S&P123, tripadvisor 230114