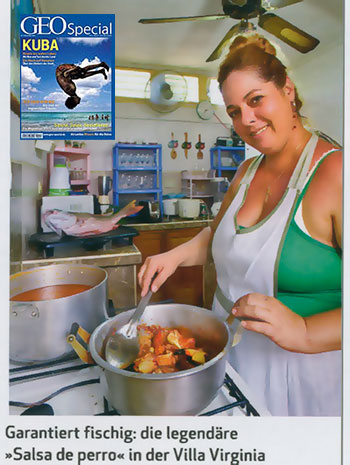 Virginia and hubby Osmany are charming hosts who have been renting forever in this, a very-known address in town.

Actually, out of the hot center of town, near one of the two small boat ports.

The couple rents three aircon and ventilated bedrooms,
• one with large bathroom, tv, opening to dining room

• tow more bedrooms with ensuites are in front, behind living/tv room

• flowery and partially shady and quiet patio,

• meals served in large dining room

• parking on grounds; in-house Internet connection. Hosts get along in English.

(Photo at left) — The casa was featured in the prestigious German-version magazine GEO as one of the best casas in Cuba with Virginia shown preparing a local favorite "Salsa de Perro" a sort of bouillabaise made of a mix of fresh fish and seafood.