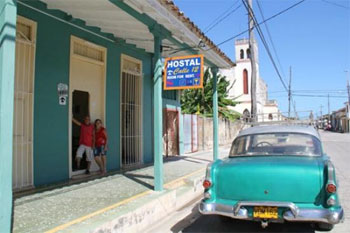 The space which was used for the restaurant paladar (which it was when run by Juanito and Rosa La China) for a couple of years has been allocated to the new bedrooms.

The couple rented from 2009 in their casa colonial style renovated in 1933, located in the historic center. Now the reins are in the hands of the young Yandy and Gisel.

The hostel now boasts six bedrooms each with ensuite bathrooms, one double bed — plus a single if necessary and ac - two are on ground level.
Mini bar service, access to the central courtyard decorated with ornamental plants.
Gastronomic services offered (Yandy has been working as cook in the cayos since 2006) with a variety of choices; specialties of the house include seafood.
Rates : 25cuc per bedroom per night; breakfasts 3-5, dinners 8-15.