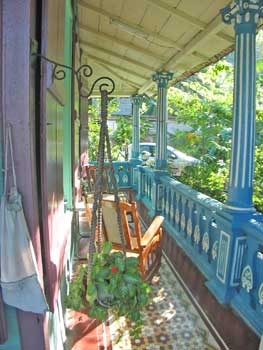 Charming, calm and vast house (which looks small from the street) with a living room with tv, a very nice open dining room and veranda with its four-pointed roof («quatro aguas»).

Four air-conditioned bedrooms (one in front, the other, larger in back) with fans, each with their private bathroom and each with two beds : a double and a single. Two larger bedrooms upstairs away from main building with new split ac, fans two large beds each; rooftop terrace.

Nice meals. Veranda, patio, garden (platanitos, limones, naranjas, mangos, oregano, culantro, etc) : a mini-farm feel.

Enclosed parking on grounds, the only one in town.