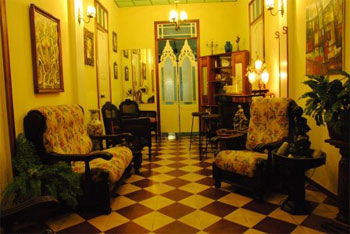 Two licenciados used to rent, since 1995, two aircon bedrooms, each with a private bathroom, hair dryer and radio on the ground floor. Small living room at the entrance, dining table and a dining area under a light well, plus a patio in the back; three bedrooms.

Since 2011, two more ac bedrooms and a terraza have been built upstairs. Meals served. Specialties : Pescado a la Santa Barbara or the very local delicacy Bacán y Calalú. Laundry, Internet.

Rates : 20-30cuc for each bedroom per night. The couple also shows other rates, hotel-style, unusually complicated (MAP, AP, CP, EP) with or w/o meals. With two meals for two, 40cuc in low and 57cuc in High Season : Jan1-31Mar and 16Jul-30Aug. Whatever.