This non-mandatory logo shows the casa has the official government permit. Arrendatarios - Licensed Renters
All casas on this not-for-profit site are legal.

Hola, travelers & viajeros !
Since May 15, 1997 — through Decree 171 — Cuban homeowners greet tourists, visitors and travellers — in dozens of cities and towns all over the island — by renting rooms, using the established formula known as "Bed & Breakfast". In Cuba, these are called "Casas particulares", simply because they are located in private (particular) homes (casas). The difference with other types of B&B's : those in Cuba do not include breakfasts in room rates but can always offer it, from 3 ("European-type") to 5cuc ("American-type breakfast") per person.

These casas are the property of Cubans [In 1958, about 75% of Cubans rented the dwellings in which they lived; by the late 1990's, more than 85% of Cuban houses had owners who pay little or nothing except maintenance, repairs and utilities.]

These homeowners may be teachers, lawyers, architects, regular homemakers, doctors, single moms or retired couples, engineers or military. All have to abide by stringent cleanliness, hygiene and basic comfort standards imposed by the government office which oversees the Housing services of the State : the "Vivienda".

Amenities can greatly vary from one home to another, some offering a private bathroom (all casas have a hot water shower, otherwise they would not have a rental permit; the very large majority of rental homes do NOT have hot water on tap in washbasins — not even in kitchen sinks).

Casas always offer air conditioning (aire (pronounced hi,ray) in 99% of bedrooms), a terrace (terraza), a living room (sala), a dining room (comedor), a balcony (balcon) or the use of the family patio, sometimes in a typically Spanish colonial setting with high ceilings and period furniture. Other homes are considered modern (modernas), dating from the 50's or 60's where a warm and cosy atmosphere compensate for the intimacy and exiguity of the house or apartment.

Very few casas do not offer air conditioning but remember that between November and March, nights can be sometimes chilly. Air conditioning units are very rarely necessary, if at all, during November, December, January, February and March.

In fact, it is better to bring a windjacket or a good sweater (pulover) or anything warm enough (apart from your lover). During those months, taking a walk on a beach when there's gusts of clear fresh air under a blue sky is really something to clear the brain; not watching North-American TV every night will have the same effect.

Cubans hate the frente frio, the cold air fronts and winds blowing in mostly from the North); those who really can't stand it get the sniffles and cough, the common winter cold.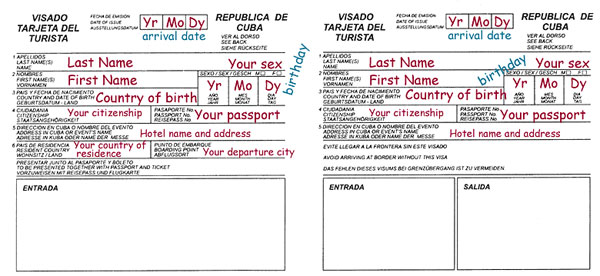 The "Tourist Card" (Tarjeta de Turista) must be filled and handed to the Immigration officer on arrival. He/she takes half of it, the other half MUST be kept at all times with the traveller's passport and MUST be handed just before departure (after purchase of the 25cuc Cuba departure tax.

This tarjeta is usually free and, if not handed to travellers onboard the arriving flight, it can be had (and filled) just after landing. More on the Tarjeta in Español here. It is valid for one month. Canadians, exceptionally, can stay in Cuba for 3 months with this card before having to renew it (only once) for a total continuous stay of 6 months. More info for Canadians about Cuba on this government web site.

Other practicalities as suggested by LonelyPlanet.com :
PROOF OF MEDICAL TRAVEL INSURANCE
IF A TRAVELER IS NOT ALREADY COVERED ON ARRIVAL (or whose coverage is from a US Financial Services insurance scheme which is not valid in Cuba), HE/SHE CAN BUY INSURANCE ON ARRIVAL IN CUBA FROM ASISTUR S.A., A CUBAN INSURANCE COMPANY FOUNDED IN 1991 REPRESENTING DOZENS OF FOREIGN TRAVEL INSURANCE SCHEMES. (See below for links to Rates)
CHECK IF YOUR COMPANY
IS REPRESENTED IN CUBA
CLICK ABOVE TO LOOK FOR ITS NAME (LEFT-HAND COLUMN)
IF A TRAVELER DOES NOT WANT (OR FORGETS) TO BUY MEDICAL TRAVEL INSURANCE BEFORE LEAVING HIS/HER COUNTRY Packages are available for purchase on arrival here
:::: Rates vary from 2,50cuc to 3 cuc PER DAY (for 10,000 or 25,000cuc maximum coverage)
ONE REACTION
You must be crazy if you do not take, at minimum, emergency health insurance when travelling abroad. I cannot blame Cuba for taking this stance : Why should they pay for someone who thought they were covered by a credit card and it turns out not to be true ?

Or thought their group policy covered all costs up front and it turns out not to be the case? You either were not covered for that procedure or you need to pay the thousands of dollars in destination and claim when you get home.

Cuban hospitals cannot afford to do things for free or extend credit. Yes, force people to take insurance is like forcing them to carry a passport and it's a great idea.

Simon Calder's take in The Independent (U.K.) on May 1, 2010 here
Canadian governement web page about travelling to Cuba — Here
FORMALITIES • RATES • PAYMENT • BEDDING • CURRENT
Safety, peace of mind, cleanliness (rental permits require it; there are impromptu inspections) and genuine hospitality are part of a non-overbearing atmosphere : you feel truly welcome. When you first come into a casa you have reserved, the owner will ask for your passport and will write down the information on a government form which he/she will ask you to sign like a hotel registration card.

This information has to be reported to the local Cuban Immigration office within 24 hours, same as hotels and resorts do. The only other form you will have to sign is a receipt in the amount your lodging costs. Tell the owner then and there how many nights you wish to stay and if you wish to eat dinner and breakfast. Casas almost never serve lunches. But you can always ask, ahead preferably.

From there, it's up to you to start a conversation with the owners or just be left alone to the activities of a well-meaning visitor. Rates do not include meals and vary from 15cuc to 45cuc and more for one or two persons sharing a bedroom (exchange rates on a daily basis from Coinmill.com here) depending on the location, season and city. Visitors get to use the living room and patio of course and, sometimes the kitchen.

Legal bedroom capacity is not limited anymore to 2 adults (it used to be until fall 2010). Children 12-17 and under travelling with their parent(s) and up to two more adults can share the (large) bedroom as owners will provide an additional bed. There are no taxes payable by visitors on room rentals. All services are payable in cash Cuban Pesos Convertibles only. Rates can be higher in Havana. Mileage may vary, caveat emptor, carpe diem, batteries not included.

Electric current is 110 volts, the same as in the US and Canada but using only the two-prong, 50's and 60's era plug, not the three-prong including the round, ground prong. Buy an adaptor before leaving, especially if you're bringing a laptop or an appliance that only has the three-prong. If you forget the adaptor, do like we did recently : some Cuban hardware stores sell, for 5cuc, a "powerbar" with four ground plugs. Ask the store attendant to cut off the end ground prong and you're in business.

Europeans who do not have a (or have forgotten their) 110/220 adaptor are glad to know they can, in a bind, plug their 220V appliance (computer, hairdryer, whatever) into the wall plug used for the air-conditioning unit, which, in most Cuban casas, runs on 220. They may sweat for a while but their appliance / gadget gets charged. ; )
| | |
| --- | --- |
| Breakfast for two at Gustavo's in Trinidad. | Dinner for one at Ana Marti's in Bayamo. |
MEALS (CENAS) & OTHER SERVICES
Most casa owners offer breakfast for about 3-5cuc and some will serve a full-course dinner (chicken, fish, seafood, pork, (rarely beef) with salad (tomatoes, cabbage, carrots, cucumber) and rice or black beans, a Cuban staple) for 7 to 15cuc. Owners who offer full-course meals have to pay an additional monthly tax. Most owners can prepare (very well, thank you) the illegal (because reserved for export) but quite tolerated sea fare : fish (pescado), shrimp (camarones), lobsters (langostas).

For dinner some seaside casas will go as far as to offer turtle (bariay) or crocodile (crocodilo) but these last two are even illegal-er than langostas (because on the brink of extinction in most countries except Cuba whose waters are relatively underfished). Caveat emptor.

Most are willing to serve meals because they make a good margin on food.

Great link to seasonalontario blog — Cuban food here.

REFRESHMENTS (REFRESCOS)
The Cuban "general store" chain Tiendas Panamericanas with its easily-recognizable green banner is established in every corner of the island and sells (besides stereos, rhum, underwear, chocolate, cookies, crisps, etc) some pretty good white or red wines from Chile, Spain or Argentina and Cuba's own wine label Soroa : most sell for 6-10cuc or more per bottle; don't expect houseowners to stock those because Cubans very rarely drink wine : stock up and store them in the casa or bedroom fridge.

Many dueños have on hand beer (Bucanero, Cristal or other local brands) or soft drinks (Ciego Montero brands of Sprite-like, Coke-like bubbly sweet water) in the bedroom fridge or the casa's refri which they will sell for 1cuc. Same goes for small or large bottles of water.

Owners will wash your clothes (lavanderia) and may charge one or two cuc for that service. Most are ready and able to help you with tourist information, a bike rental, information about the location of a restaurant, bar or show : things that you would do in your own home for your friends and relatives.
HEED THE HINTS IN THIS FINE PRINT • OUR RECOMMENDATIONS

::: Make sure that in your first email or phone call you specify that you want to book a room in that particular casa and that you will reconfirm your booking on arrival in Cuba.

Unless you only want a room in any house which may be of the same quality, not the specific casa you booked through photos on these websites

::: So as to not abandon expecting owners with empty rooms, reconfirm (or call ahead to cancel) your booking by phone as soon as you can after arriving in Cuba
::: Please write or phone a casa owner to cancel a booking. As late as it may seem, it allows them a chance to rebook.
::: Children under the age of 16 may share a bedroom with adults for free. Specify the child's age when booking.
::: Since October 2010, maximum bedroom capacity is not limited to two adults
::: Also, large casas are not limited to renting only two bedrooms per night.
::: At the end of the casa name, the V signals the casa was suggested by travelers or owners but not verified by the website staff. If you try it and like it, write us about it.
::: Unless otherwise mentioned, the average room rates and service prices are : 20-25cuc per bedroom per night [up to 40+ for 4 in a room]; breakfasts 3-5cuc, dinners 7-10cuc.
::: Any casa particular anywhere in Cuba must have a hot water shower, otherwise it cannot have a permit to rent
::: Please share your Complaints, comments & suggestions webmaster [@]cubacasas.net
TO BOOK A CASA
• Send an e-mail by clicking on our logo (shown below). This should open your e-mail application with the address being shown in the "To:" box. You will note that the actual address has been added to something like (if you mouseover) "mailto:Particuba_thecity_casaname_". This is to show the Cuban recipient that the message has gone through our site so that he/she will pay more attention to its content. We do not collect commissions from owners, our sites are strictly non-profit.

Most of the casas we list have access to an e-mail address. Be patient for the reply, as most casa owners do not check their e-mail on a daily basis. Only a handful have an in-home connection. [We do not show e-mail addresses directly on our lists — we use clickable images — to avoid Cubans from getting spam produced by so-called "robots" which collect addresses from texts. We don't have to explain further as you are surely aware (and "victims" of this practice.]
•
If the casa has no e-mail logo (as above)
•
If you are in a hurry
- Phone the owners directly from your country : international phone rates to Cuba may seem dear to - some, but it should not take you more than two minutes — consult our very own Spanish lexicon here or type in your phrase using Google translate here — to call direct to Cuba and have sufficient time to book by human voice. Old-fashioned maybe, but so worry-free. The Cuban phone network is quite efficient, you'll be gladly surprised to know.
Dialing from Canada or the USA
011 53 + city code + phone number.
Dialing from Europe, UK and Mexico
00 53 + city code + phone number.
• If you are a relaxed traveller, best is to take it easy by booking the first night(s) by e-mail
- Then phone the other casa owners on your itinerary on arrival in Cuba directly from the airport or from the first casa's phone. Stick to your list (our suggestions). Do not rely on Cuban recommendations because inasmuch as they are doing this out of generosity and kindness, they most likely have never seen the casa or pictures of their own recommendation. You have seen photos of the casa where you have chosen to go.

• If you are a neurotic tourist (such as any character in a Woody Allen movie), then go ahead, call every casa 3 months ahead of time and satisfy your need for security.
•
Read Celia Cole's take on casas particulares
(she's an expert on Cuban farming and such)
RATES SHOWN ON OUR LISTINGS • A BUDGET PER PERSON
ie 20-25cuc or 35-40cuc are according to Low or High Seasons.
The 5 months of High Season : December, January, February, July and August
These rates are given to us by the owners. Remember we do not get a centavo of commission from the bookings you make through this site.

So, just because the casas we recommend are colonial or modern and well-furnished, air-conditioned and so on, does not mean you are paying more (as you would if you went through a site that makes credit card bookings) by using our information. You pay the owner in cash Cuban Covertibles only — our part is done.

Remember there are thousands of legal casas in Cuba. In Havana alone, maybe 3,000, including 550 in Centro, more than a thousand in Vedado and so on. So, if you are travellers at heart (and not tourists), you just know you will find some casa to your liking from our lists. If you've heard of a great casa not on our lists, ask us about it [webmaster_at_cubacasas.net].

We will do some research for you and report what we know or tell you on which web site it is listed and ... see it for ourselves (double personality) next time we go to Cuba, if we (again!) feel it's worth it.
DECREE MODIFIED
On October 1, 2010, Decree 275
eliminates the limit of two bedrooms for rent per casa
and does away with
the limit of 2 adults per bedroom
; it also does away with the obligation for owners of hiring only family members as help in the casa.
Because the government needs to get money where it can (it has in August 2010 announced long-term layoffs of half a million government staff and allowed 178 types of work to be performed privately, a huge economic move — nightmare for some — that will transform Cuban society) and that includes casa particular owners.
Owners must now contribute to a nationally-run pension fund for any worker they hire; but then, the
basic monthly room tax went from 150 to 200cuc to a mere 35cuc
(whether rented or not) a huge incentive for Cubans who do not know much about hospitality — hence a huge increase in the number of casas offering lodging. [
Source
- Gaceta 011]
Furthermore, new rentals are given the incentive of
no taxes for the first three months
, causing many Cuban owners to binge on travelers naïveté and charging them for every tiny service. Bottom line, best is to rely on our lists as
we require owners to be in business at least a year
before they can apply for a space on our pages.
PLAN TO TRAVEL AROUND THE ISLAND ?
• Print our listings
from each city page;
• Browse other web sites listing casas
(some
here
);
• Consult the most recent editions
of travel guides (our list
here
) in bookform, and settle on 2 or 3 casas per town, then plan an itinerary from there.
Hence, you don't absolutely need an advanced reservation for every single night of your stay (unless it's over Xmas and New Year's or in Summer months — all known as "Temporada alta" or High Season).

What you need on arrival is to tell Cuban Immigration where you plan to stay, for at least your first night in the country. Pick an address from our lists and write it on the form during your flight and hand it in on arrival. You will be left with a half of that form to hand back at the end of your trip before entering the departure lounge at the airport.

DIY Do It Yourself — call any casa on our lists, right from the airport : why not ?. That's all.

From that first casa in Cuba, make all necessary phone calls to plan the rest of the trip - better to ask in advance for the use of the phone for a prolonged - but so helpful - period. Call another casa in the same city or national park management or transportation network.
LIMITATIONS • TRAVEL GUIDEBOOKS
Since May 2003, the Cuban government imposes a limit of two bedrooms for rent in each casa and no more than two adults per bedroom. The overwhelming majority (99%) have private phone lines (or cellular phones) and will call a taxi or can recommend a local restaurant (called "paladar") or a casa in a friend's or cousin's town on your itinerary.

In the case a Cuban casa owner recommends a casa, remember that he/she has more than likely never seen the casa in a long while (if at all) so it is better to rely on our lists and your own research on the Internet and in guidebooks.

In spite of what publishers may claim, guidebooks can never be as up-to-date as cubacasas.net. By a long shot because they're only updated (in spite of the year for which they are published) every 2nd year at best. We are still seeing erratas or casas not renting anymore as listed in the most famous guidebooks. We update listings on a weekly basis. As a matter of fact, a lot of researchers for guidebooks browse through this site and copy listings : there are ways for us to know this. But then, imitation is the best form of flattery.
Spanish-speaking people are the only people who give two shits about the Cuban embargo.
TAXES • PUBLIC FUNDS • BENEFITS • EMBARGO
For the thousands of Cuban families who take up the challenge (it is a lot of work, trust us!), this relatively new form of hosting means they can join the tourist boom while trying to balance their budget. Their revenues, less a monthly tax on each tourist-assigned room (rented or not) goes back, it is assumed, to the población through social services.

The casa owners are not only taxed for each bedroom on a monthly basis (ie, a two-bedroom Vedado casa which also offers meal service has to pay about 650cuc per month before expenses). In January of each year, casa owners are also audited for what is called the "13th month", an income tax based on the previous year's gross rental revenues.

Obviously, renting casas is the cheapest way of collecting foreign currency for the government. Cuba has this regular income from monthly casa taxes (something like 12 million convertible pesos a year, we figure) without having to invest a single tourist dollar. The government does not have to deal with foreign investors or make large investments.

Contrary to what it invests in hotels and resorts, the government does not have to risk any public funds for renovations (lumber, cement, paint, labor) or staff (cooking, cleaning, paperwork, immigration forms, monthly and yearly income reports) or upkeep (water, electricity, phone, tv, air-conditioning, paper, towels, soap, etc). The government's part is in fact quite basic : local inspectors and office staff of the Vivienda who are paid in Cuban pesos. Each city or town has a Vivienda office which runs all rental casas.

This (seemingly) easy money partly explains why the government can have the population benefit from the highest literacy rate, the highest life expectancy, the largest number of free doctors per capita and the widest free education network in Latin America and most countries on the majority of continents. On this planet. In this galaxy. Read more on this page.

The ex-president of American Express, the IMF International Monetary Fund and the World Bank (a post assigned by the US Presidency), James Wolfensohn said in April 2001 : " I have no hesitation in recognizing Cuba has done a good job in the fields of education and health and I am not the least embarrassed in admitting it. Although we have presently nothing to do with Cuba, we should congratulate Cubans for what they have accomplished."
EMBARGO • THE USUAL SUSPECTS
"On October 26, 2014 for the 23rd year in a row, the General Assembly of the United Nations adopted a non-binding resolution by a vote of 187 countries to 3 asking all countries to refuse to apply the American embargo against Cuba as it "violates other states' sovereignty" and "the legitimate interests of entities or persons under their jurisdiction and the freedom of trade and navigation".

The usual suspects who voted against : the United States of Agression, Palau and the Israeli government voted against — the sionists being too busy building walls around Palestine instead of tearing them down like Berlin did 20 years ago. Micronesia and the Marshall Islands, again, abstained. Even the Mossad is fed up with Bibi.


RESPECT CUBA'S SOVEREIGNTY
Canadian Senator Jacques Hébert (1923-2007) who lived part of the year in Cuba, commenting on the long-term imprisonment of dozens of Cubans accused of treason, said in March 2004 : "How can you keep up an embargo for over 40 years ? (ie, any ship that lands in Cuba has to wait 6 months before going to the US).

Persisting for that long with laws like the Helms-Burton and all those dirty tricks just to crush a small country goes beyond limits. (...) We tend to forget that Cubans feel threatened. Anyone would, by just listening to what Bush and the American extreme-right claim. It's total agressivity."

"If I were Cuban, I would feel threatened. So if the Cuban authorities feel threatened, they have a right to take actions they would not normally take outside of that context. There are things about Cuba I like less than others but I like more things about the country than I dislike. And that's why I am here."
ALEXANDRE TRUDEAU PRAISES CASTRO [Toronto Star, August 2006]
" He (Fidel Castro) lives to learn and to put his knowledge in the service of the revolution. For Fidel, Revolution is really a work of reason. In his view, Revolution, when rigorously adopted, cannot fail to lead humanity towards ever greater justice, towards an ever more perfect social order…

His intellect is one of the most broad and complete that can be found. He is an expert on genetics, on automobile combustion engines, on stock markets. On everything.

Combined with a Herculean physique and extraordinary personal courage, this monumental intellect makes Fidel the giant that he is.

He is something of a superman…" Source
STRANGE DICTATORSHIP
"Strange dictatorship which sends its doctors and teachers to shantytowns of Soweto, of Port-au-Prince, of Quito, of Bogota or Caracas. Which, instead of brutally firing — using the so-called democratic ways of our very democratic countries — 100,000 sugar industry workers, bothers to consult them, modify its plans and then restructure its primary industry without any social upheaval or human drama." Authors Danielle Bleitrach and Viktor Dedaj, in Cuba est une île (Cuba is an island) Publisher : Le Temps des Cerises, Paris, November 2004.
Strange indeed — In December 2002, after visiting the restaured Bet Shalom Synagogue and attending the Cuban premiere of his film Minority Report in Havana, US director and producer Steven Spielberg was invited to meet Fidel Castro. As he came out, he said to journalists that he had just spent the most important eight hours of his life.

Someone once said : "Everything that's ever been said about the U.S. is true." Perhaps the contrary applies to Cuba...when emanating from the US government.

Fooled indeed — « In the end, the reason why the administration doesn't want any travel to Cuba is simple. It doesn't want the American people to understand, ten minutes after their arrival, that they have been fooled by their government about Cuban reality. » Philip Peters, former member of the State Department under Reagan and Bush (the elder), vice president of the Lexington Institute

Strange society — In Cuba, there are no firearms in homes (50% of US homes have at least one; 18% in Canada; 23% in Québec; 30 firearms per 100 persons in France) nor are there soldiers on the street to make sure there are no homeless (care for family and neighbours is not a law), there is no pornography nor child prostitution (women and children are treated as human beings), there is no advertising on television, newspapers, radio nor on any of its 10,000 web sites : a country where citizens are not con(ned)sumers.

Strange island where there are no casinos; Cuba has chosen to get revenues in a dignified manner, not through addiction; 65% of health and education professionals and 43% of the 609 National Assembly members are women, the third-highest level in the world after Rwanda (51%) and Sweden (47%).

Strange ideals — Cuba is the only country in the world with sustainable development, says the World Wildlife Fund. Cuba has planted 137 million trees, 5th largest total in the world in 2008 for the UNEP — United Nations Environment "Plant A Billion Trees" Campaign; Cuba's education index is equal highest in the world along with Australia, Finland, Denmark and New Zealand; for the past twenty years, Cuba has been taking care of more than 18,000 Russian children affected by the Chernobyl nuclear powerplant explosion in April 1986 in the Ukraine.

Strange democracy — During elections held every five years since 1975 (at national, provincial or municipal levels), candidates do not represent any party hence no party line and no expected paybacks as budgets are outlawed in order to make sure candidates represent their ideas only based on their curriculum vitae.

There are 1,200 provincial delegates; 175 communes (municipios) each made up of 30 to 200 electoral ridings for a total of 15,093 representatives who represent an average 550 citizens of their burrough in their town.

Cuba is a NOT a communist country. It has been a socialist state for close to 40 years; so says its February 24, 1976 Constitution. PDF
« ARTÍCULO 1. Cuba es un Estado socialista de trabajadores (a socialist state of workers), independiente y soberano (independent and sovereign), organizado con todos y para el bien de todos (organized with all and for the good of all), como república unitaria y democrática (as a unitarian and democratic republic), para el disfrute de la libertad política , la justicia social, el bienestar individual y colectivo y la solidaridad humana (for the enjoyment of political freedom, social justice, the well-being of individuals and communities and for human solidarity).»

In the 2010 Municipal Elections (regular national-level elections for the Asemblea Nacional and province by province Asembleas Provinciales Elections were held before), interested citizens had from Feb 24 to Mar 24 to apply for candidacy; 8.4 million Cubans were registered to elect some 15,093 "delegates of the people" (delegados del pueblo) representing every town burrough (Municipal Assemblies of the People or officially "Asambleas Municipales del Poder Popular") made up (we divided 8.4 million by 15,093) of an average of 556 eligible voters per municipal assembly.

Ballot boxes are watched by children : some 300,000 kids took part in the 2003 Elections :
Elections in Cuba have two phases, firstly, delegates are elected to the Municipal Assembly every two and a half years and then secondly, from this deputies are elected to the National Assembly every five years. The Assembly is the country's highest legislative power.

From the members of the National Assembly [Asemblea del Poder popular], the Council of State is elected. It acts on behalf of the National Assembly between sessions. The National Assembly also appoints the Council of Ministers, the government's highest executive and administrative body. In the event of a Presidential succession in Cuba, it will be the National Assembly that elects the new President. more


Whoa, children watching ballot boxes : strange indeed.
Cuba lives in peace and health through education — without the help of organized crime. Far from paradise for sure, with huge problems for sure. But, hey, it's a beginning.

" Cuba is a bizarre and atmospheric place - the most fantastic country I've ever been to. It feels frozen in time. Go, before it changes and becomes like everywhere else. Fiona Tomlinson, News Editor, Channel 4, UK "
SIZE & POPULARITY
La Isla Grande is a large country, 1,100 kilometers long. With its 42,804 square miles, its territory surpasses in size Austria, Belgium, Hungary, the Netherlands or Portugal. Travelling by train from the capital to the second largest city, 867 km away, Santiago de Cuba, takes close to 15 hours (albeit slowly, but safely).

Casa-hopping is the best way to discover the true nature of the largest Caribbean island. Something the large, all-inclusive impersonal resorts or hotel complexes cannot offer.

Where have tourists come from in 2019 ?
In absolute numbers, Canada first (-1,2% compared to 2018), USA (-5,2% over 2018), France (-13,5%), Deutschland (-13,9%), Mexico (-2,3%), España (-13,3%),
Inglaterra (-25,7%), Federacion Rusa (+13,8%), Italia (-25,8%), Argentina (-3,3%), Chile (+20,3%),
Filipinas (-18,6%), Colombia (+,6%), Holanda (-15,3%), China (-9,7%), Portugal (+2%),Polonia (-3,2%) and Peru (+1,4%) were the most important countries. The rest of the other emitting countries had 15,2% less visitors in 2019.

The exiled Cuban community (US-Cuban citizens traveling with two passports) came in 2nd as far as numbers of visitors with an increase of 5,2% in 2019.
In 2019, 147 airlines used Cuba's 10 international airports
arriving from 87 cities worldwide.
International hotel chains operate 110 properties in Cuba (28,449 of the island's 60,000 hotel bedrooms) on the island.
Hotel chain list here
<
OUR PART
We have been travelling to Cuba for many years and regularly tour the country. In the past years, we've racked up over 30,000 km touring La Isla Grande (most recently in January and June 2005 and February-March 2006; October-November 2006 and November-December 2007; January-February 2009; February-March 2011; February-April 2013, March-May 2014, 2016, 2017, 2019, etc), meeting casa owners and taking pictures of their humble cuartos or outstanding coloniales, and churning out videos of la naturaleza, the pueblos, the poblacion and the ciudades.

We augment the lists by exchanging information with travellers and some of the 550 true visitors — on average per day to our sites — from around the globe. At home in Canada, we spend most of our time in front of a computer, answering e-mails, giving advice, researching, planning our next trip, feeding the cats and trying to make this site and its French-language version, www.particuba.net, as up-to-date as possible.

Unfortunately, we have to fight copyright infringements of our texts and photos. We're up to the 15th web site stealing our photos and posting them on commercial for profit sites. Were we to print the whole sites on 8.5x11 paper, we would have at least 2,600 pages. Enjoy saving the environment
Marcos el webmaestro, Montréal, Québec, Canada